When I finally knew it was time to pop the question to my girlfriend, I was abruptly thrown into the world of diamonds and engagement rings. Over the course of two months, I scoured multiple online diamond retailers for an engagement ring. Through my online research, it quickly became apparent to me that Blue Nile
 was the leader in this space.
In the end, I purchased my diamond engagement ring through Blue Nile, and I can confidently recommend them to anyone looking to buy an engagement ring online. My hope is that this Blue Nile review will help you in your own diamond search, and that you have a similarly enjoyable experience with Blue Nile.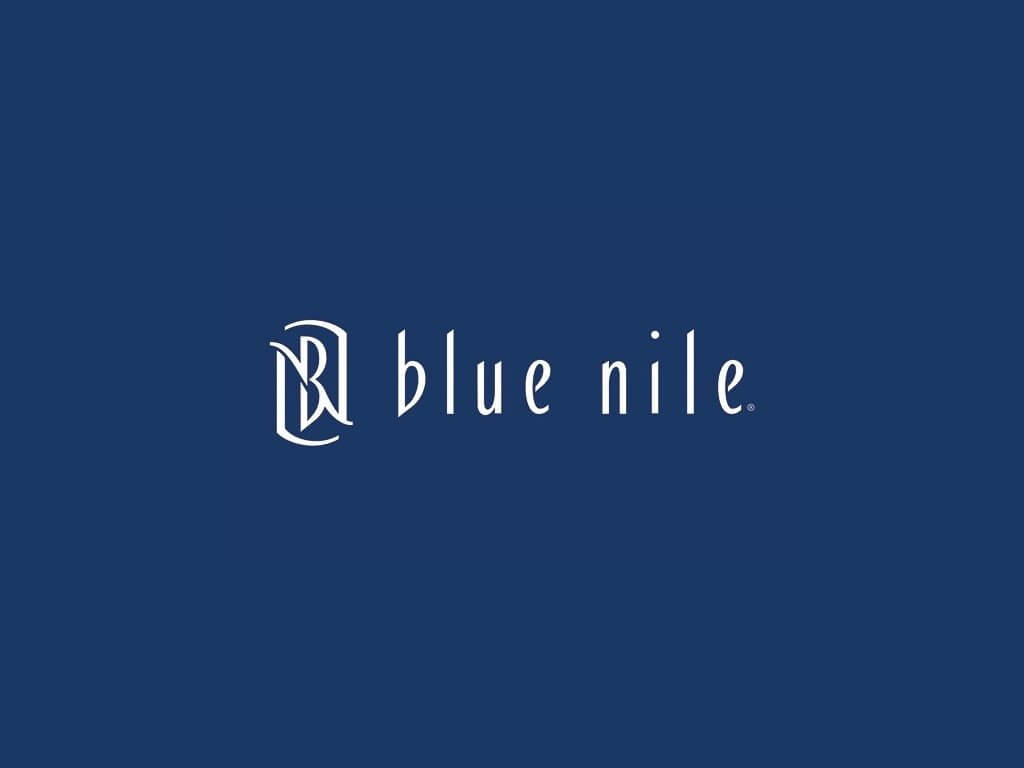 Blue Nile Diamond Prices
My search for the perfect diamond engagement ring started broad – I must have looked at a dozen online jewelry websites while at the same time educating myself on the 4 C's of diamonds.
After visiting a few local jewelers to see diamonds in person, I realized that diamond prices are, across the board, cheaper online. My search narrowed to just a few online diamond retailers, and then just Blue Nile, because Blue Nile prices were noticeably cheaper than the competition.
Now, comparing diamonds isn't apples to apples. Each diamond is unique and has its own measurements and imperfections. Just because two diamond have the same shape, cut, color, clarity, and carat doesn't mean that they are comparable. You would need to look at the certificates and match up other diamond specifications to have a fair comparison. However, when you do have an apple to compare to an apple, the apple with the cheaper price always wins.
The World's Leading Online Diamond Jeweler
A simple Google search of "engagement rings" comes back with Blue Nile in the top 10 search results, and this is for good reason. Blue Nile currently lists close to three hundred thousand loose diamonds on its website ranging in size from just under a quarter carat to almost 24 whopping carats.
It's not just a large inventory of diamonds that makes Blue Nile the leading online diamond jeweler. Blue Nile has been around since 1999, so they've had many years to perfect the online diamond shopping experience.
And to this day, Blue Nile is constantly improving the diamond shopping experience for its customers. For example, in October 2016, Blue Nile released 360° Diamond View, an interactive 360° magnified image of an actual diamond. At the time of this writing, only 20% of Blue Nile's loose diamond inventory has this feature available, where the rest of the diamonds have generic sample photos.
Loose Diamond Search
Blue Nile's website is very straightforward to use. From the homepage, you are able to build your own ring by selecting Start With A Diamond or Start With A Setting, among other options. In my case, I chose the former.
On the subsequent page, a filter appears where you can select one or more diamond shapes as well as ranges for price, carat, cut, color, and clarity. There are also advanced filters including polish, symmetry, fluorescence, depth percentage, table percentage, and length to width ratio. I chose values for all of the filters except for length to width ratio and price.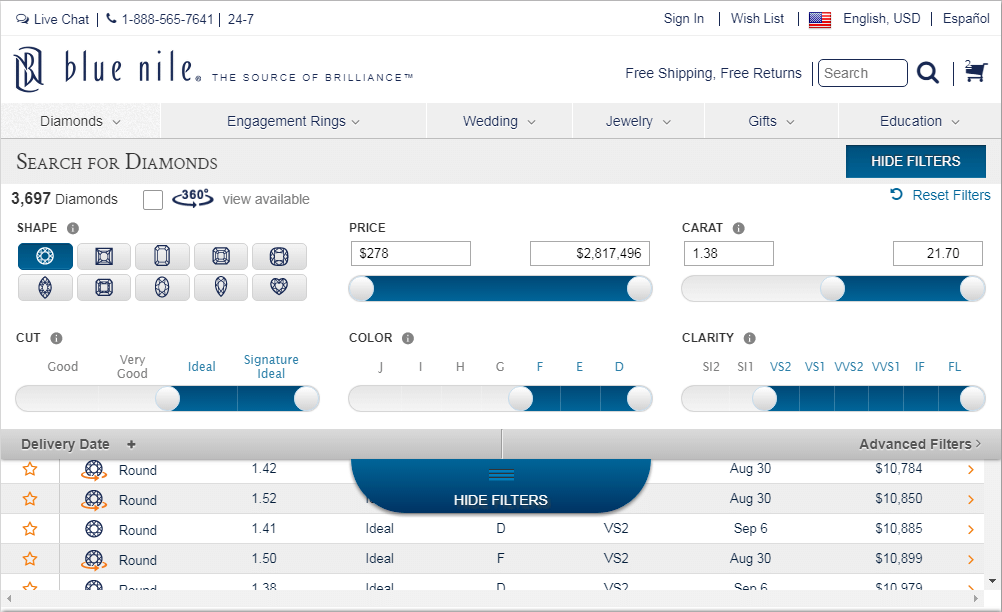 The diamond search results are immediately updated after changing any of the filter values. Search results are default sorted by lowest price to highest price. All of the other columns are sortable, but the only two columns that make sense to sort are the price column and the carat column.
One thing I do not like about Blue Nile's diamond search is that you have to click View Filters and Hide Filters to toggle the filter in and out of view. Putting this quirk aside, browsing Blue Nile diamonds on a desktop is a good experience.
Blue Nile's mobile website is another story. The search results columns are too smushed, and changing a filter value requires too many clicks. For that reason, I did most of my diamond hunting on Blue Nile's desktop website.
Blue Nile Gave Me Confidence
Blue Nile does a great job of warming its potential customers up to the idea of spending thousands of dollars on their product without seeing it first. They do this by having unbeatable shipping and returns policies in combination with an always-available and knowledgeable customer service staff.
Blue Nile advertises its "Free Shipping, Free Returns" policy all over the website – you'll find reference to it on the homepage, diamond search page, and multiple times scattered throughout the diamond detail page. To me, this policy is unbeatable and single-handedly gave me the confidence I needed to buy my engagement ring online.
More specifically, Blue Nile allows returns and exchanges within 30 days from when the item was shipped. In either case, you'll get a free shipping label sent to your email with insurance coverage included.
My thinking was that if I end up not liking the color of the diamond or I could see visible inclusions, I could just send back the ring and it wouldn't cost me anything in the end. There is essentially no risk when buying your engagement ring from Blue Nile.
Another aspect of the Blue Nile experience that I appreciated was the 24/7 live chat, phone, and email support. From any page on the website, you can get in touch with a Blue Nile customer service representative within seconds.
Ordering The Perfect Diamond
After weeks of searching for the perfect diamond, I finally had one picked out, and I was mentally and financially prepared to make the purchase. It was August 23 at 7 AM, and the diamond detail page conveniently told me "Order now for free delivery on Thursday, August 26". It was time to place my order.
After one last final review of the GIA certificate, I clicked the "add to your ring" button on the diamond detail page. My girlfriend had hinted that she wanted a simple yellow gold solitaire ring, so after selecting this ring on the Build Your Own Ring page, the only thing left to do was select her ring size.
Clicking on the "add to basket" button takes you to the first step in order to checkout. The first page is basically a review of your purchase, which at this point is a ring and a diamond. Blue Nile tries to sell you some jewelry cleaning products and other jewelry on this page, which may seem reasonably priced compared to your four or five-figures shopping basket total, but you can safely ignore these optional upgrades.
One thing I was relieved to find out on this page was that I wouldn't be charged tax on my purchase. By entering my Maryland zip code and clicking on the button to calculate sales tax, my order total remained unchanged. Unfortunately for those of you in Washington state, New York and Virginia, Blue Nile will be collecting sales tax on your orders.
The next page is a typical billing address page. Thanks to Google Chrome Autofill, I didn't have to type my mailing address, email, and phone number out yet again.
Moving on to the payment method page, you have multiple options of payment including credit card, bank wire, PayPal, and others. I wanted to get the cash back points for my credit card, so I chose the credit card option. It's worth pointing out that Blue Nile offers a 1.5% discount on bank wire purchases, but note that most banks charge a fee for such transactions.
I knew ahead of time that the limit for my credit card was going to be less than the amount of my order, but fortunately, Blue Nile makes it easy to pay with multiple credit cards over the phone. I called up the 800 number and the customer service representative was able to look at my shopping cart by giving them an identification number found on the order page.
Within minutes of confirming my credit card numbers and shipping address with the customer service representative, I received an order receipt via email.
Then, within three hours of my order, I received an email confirming my shipment date.
Thank you for choosing Blue Nile. Your order is scheduled to ship before 8:30 PM (EST) via FedEx Priority Overnight® on 08/25/16. Once shipping has been confirmed, you will receive a confirmation email along with links to track your order during transit.
As promised, two days after placing my order with Blue Nile, I received another email notifying me that my order had shipped and would arrive by Friday, August 26. The email also contained a link to track my order via FedEx.
Unboxing the Diamond Ring
Like clockwork, my Blue Nile diamond engagement ring arrived in the mail on August 26. Unfortunately, I wasn't home that day, but I had arranged for my landlord to sign for, accept, and hold the package for me until I returned.
You or someone you trust will have to be available to sign for your package upon delivery. Otherwise, after three delivery attempts, your package will be held for pickup at a local FedEx location for a short period of time before it is sent back to Blue Nile.
The package arrived in a discreet box with no indication that it contained a high value item or that it was shipped from Blue Nile. This is important for a few reasons, especially because you don't want to spoil the surprise.
Upon opening the package, the signature Blue Nile ring box, which was stored inside another less-fancy cardboard box, was nestled securely in a cardboard holder with the supporting documents including the GIA certificate underneath.
Documents aside for now, I opened the ring boxes to find a perfectly placed 1.41 carat round diamond set on a classic six-prong solitaire engagement ring in 18k yellow gold. So far, so good.
As not to contaminate the ring with my fingers, I carefully picked it up for close examination. I moved the ring as close to my eye as I could while still being able to have a clear focus of the diamond. I eyed-up the diamond from every angle trying to find visible inclusions, but I failed to do so.
I was amazed by the brilliance and sparkliness of the diamond. I took the diamond outside in the daylight, and boy did it shine. I sure was proud that my research had paid off. I knew that I found the perfect ring for my girlfriend.
After a few minutes of admiration for the diamond, I gently placed the ring back in its ring box and moved on to read through the documents. The documents came in a sleeve with the text "Important Document Enclosed" written on the outside.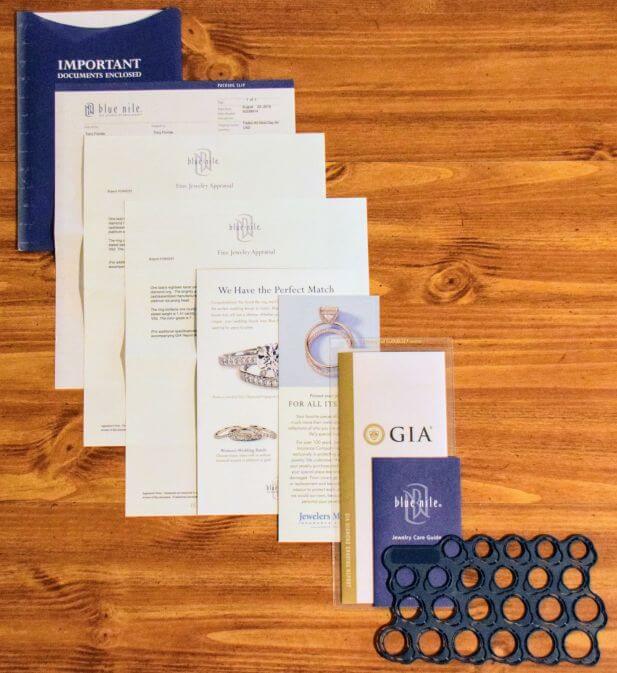 The Blue Nile documentation sleeve included:
1 Packing slip detailing the diamond, ring, and order total
2 Fine jewelry appraisal letters with an estimated retail value almost double what I paid
1 Blue Nile brochure advertising wedding bands
1 Jewelers Mutual brochure advertising jewelry insurance
1 GIA diamond grading report in a separate Gemological Institute of America plastic sleeve
1 Blue Nile jewelry care guide booklet
1 Blue Nile branded plastic ring sizer with ring sizes at 1/2 intervals between 3 and 14
After reviewing these documents and making digital copies, I filed them away in my safe, and I suggest that you do the same.
The Final Test
Less than a month later, I proposed to my girlfriend. She said yes! She loved the ring and said it was perfect.
Without any hesitation, I would recommend Blue Nile
 to anyone who is looking to buy a diamond engagement ring – especially if you're on a budget and looking to save some money. Purchasing an engagement ring can be an emotional roller coaster, but my experience with Blue Nile was pleasant. Blue Nile is known as the world's leading online diamond jeweler for good reason, and I can attest to that.