I wish I would have known about the Blue Nile ring sizer when I needed to determine my ring size. Now that I'm an expert in measuring ring sizes 😉 I feel the need to spread the word.
What you need to know is Blue Nile will send you a free plastic ring sizer that will help you measure and figure out your ring size.
In addition, a printable ring size chart is also available for download from Blue Nile that provides tips on how to measure your finger and buy a ring as a surprise.
Below, find a comprehensive guide on figuring out ring size with these free tools from Blue Nile.
Blue Nile Ring Sizer
Depending on how urgently you need it, Blue Nile offers a few different options for figuring out ring size. One options is a plastic ring sizer that Blue Nile will send you in the mail for free. The other option is a printable ring sizer that you can download at anytime from their website.
Let's take a look at both of these options for measuring ring size to see which best suits your needs.
Plastic Ring Sizer from Blue Nile
As courtesy, Blue Nile will send you a free plastic ring sizer by mail. You don't have to buy anything or make a purchase. In my opinion, this is a very helpful gesture on Blue Nile's part.
All you have to do is go to the Find Your Ring Size page on Blue Nile and enter your shipping and email address. Blue Nile doesn't collect any payment or credit card information since the ring sizer is completely free.
If you're in a hurry, you do have the option to rush ship your ring sizer with FedEx 2 day shipping. In this case, you'll have to pay a $15 premium for the expedited delivery.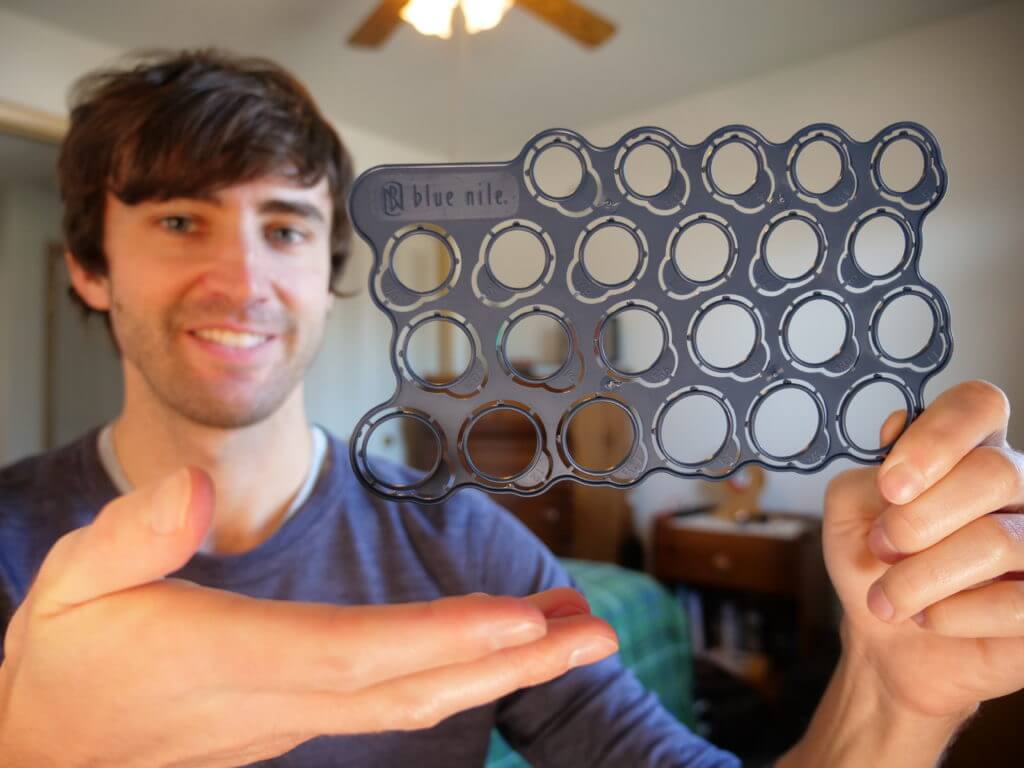 I own one of these Blue Nile ring sizers. The ring sizer allows you to physically try on various ring sizes. Ring sizes go from size 3 up to size 14 in half size increments. That's a total of 23 different rings sizes from the smallest to the largest of fingers.
The individual rings on the ring sizer pop out of the plastic holder so that you can try them on without any interference. What I really like about the ring sizer is that the size of the ring is inscribed on the ring when you pop it out. This ensures that you don't mix up one ring size with another.
For anyone who cares, my ring size is 7 which is below average for men. Blue Nile claims that the most popular men's ring size is 9 where the majority of rings sold are between 8 and 10.5.
On the other hand, the average ring sold on Blue Nile for women is size 6, and the majority are between size 5 and 7.
Printable PDF Ring Sizer from Blue Nile
Now if you can't wait for your ring sizer to ship and you don't want to pay the $15 to expedite delivery, you have the option to print an international ring size chart. You can download the Blue Nile ring sizer PDF here.
With this method of measuring ring size, you'll have the option to measure a current ring that fits or measure the finger. In either case, the measurement is compared to the various ring sizes on the printable PDF to determine the correct size of the ring.
This PDF from Blue Nile not only helps you determine your ring size at home, but it also provides you tips on how to secretly figure out someone's ring size for a surprise engagement.
In addition to that, the PDF also translates US and Canada ring sizes to other nationalities such as UK, European, and Australia.
In my opinion, there definitely is value within this Blue Nile PDF; however if time permits, I would choose the free ring sizer as it is much more accurate.
Blue Nile Review
If you go through this ring sizing process and the ring still ends up not fitting, don't sweat it because Blue Nile offers free ring resizing on all customized engagement rings for the first year.
Now while Blue Nile provides a free ring sizer, should you buy your engagement ring from them? I battled with this question when I was looking for a diamond engagement for my ex-fiancée. After much research, I ended up purchasing my engagement ring from Blue Nile since I determined they have some of the best prices for diamonds.
If you're in a similar situation, I urge you to check out my Blue Nile review here.
Also, definitely let me know if you have any questions about ring sizing below. I'm more than happy to help you out.