Buying a diamond at a retail jewelry store is probably the most expensive way to get an engagement ring. You will see significant savings at Blue Nile
 and other online retailers when compared to your local jeweler.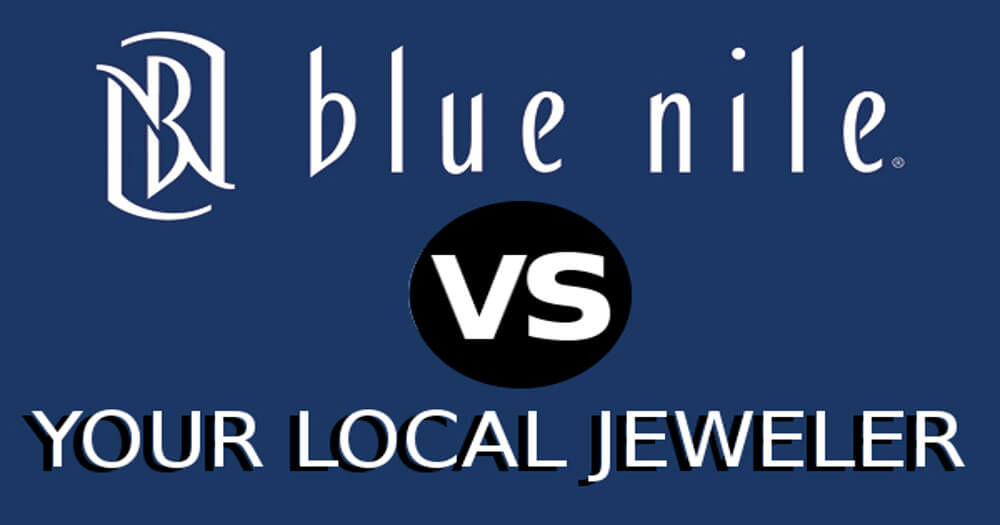 Blue Nile vs Your Local Jeweler
You may just be learning about diamonds and have already visited a local jewelry store. Also, you probably have a good idea in your head about which type of ring and what size carat diamond to get.
But then you went online and found Blue Nile. You searched Blue Nile for similar diamonds and you were shocked by the drastic price difference.  Blue Nile is so much cheaper than your local jewelry store. You probably could go up a whole carat and pay the same price as the in-store diamond of the same quality. You think to yourself:
"What an incredible markup! Are online diamonds typically that much cheaper?
Yes! The saving of traditional jewelers versus online jewelers can be astronomical.
Online diamond stores can offer savings because their diamond inventory is virtual.  Blue Nile and other online diamond retailers sell diamonds straight from the cutters. In addition, they take a modest commission.
Of course, most online jewelers have in-house offerings too.  These non-virtual diamonds are pricier than the virtual selection but are cheaper than a traditional brick and mortar store in many cases.
This is not to say that all diamonds from all brick and mortar stores are more expensive than online diamonds.  Some local jewelers have begun to offer competitive pricing in line with online jewelers.  However, a lot of smaller jewelry stores have a hard time competing with the massive online diamond retailers such as Blue Nile.
Why Do People Buy Diamonds Offline?
The vast majority of diamond buyers are clueless about diamonds and genuinely need the assistance of an expert sales representative. Seeing a diamond in person is something that a lot of first time diamond buyers feel the need to do, and they definitely should!
But most diamond buyers are either unaware of the savings available online or are scared to make such an expensive purchase over the internet.
How Much Cheaper Are Diamonds at Blue Nile?
Buying a diamond online can yield significant saving.  You can save up to 40% by buying a diamond online.
Always make sure you are comparing apples to apples to make a fair comparison.  But when doing so, you will see for yourself how much cheaper online diamonds can be compared to a traditional brick and mortar jeweler.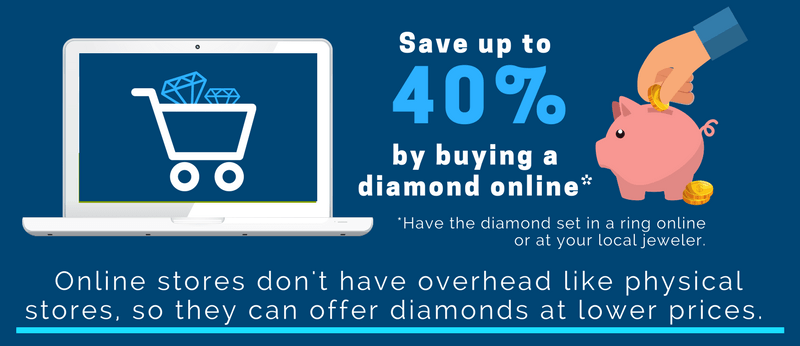 The Bottom Line
Are diamonds cheaper online? The answer is an definite yes. Large online diamond retailers such as Blue Nile
 are set up in a way that allows them to essentially cut out the middle man and offer diamonds at a much lower price than a traditional jeweler.
So before you hand over your credit card to your local jeweler, do your homework and compare online diamond prices.Your wallet, bank account, and future wife will be glad you did.