My biggest piece of advice when you buy your diamond engagement ring is to avoid chain jewelry stores. You know…those jewelry stores in the mall and the ones you see all the time on TV—what does "every kiss begin with"?
Here are the worst chain jewelry stores to buy your diamond engagement ring from, and reasons why you should avoid them at all costs. Also, stick around to the end to find out where you should buy your engagement ring.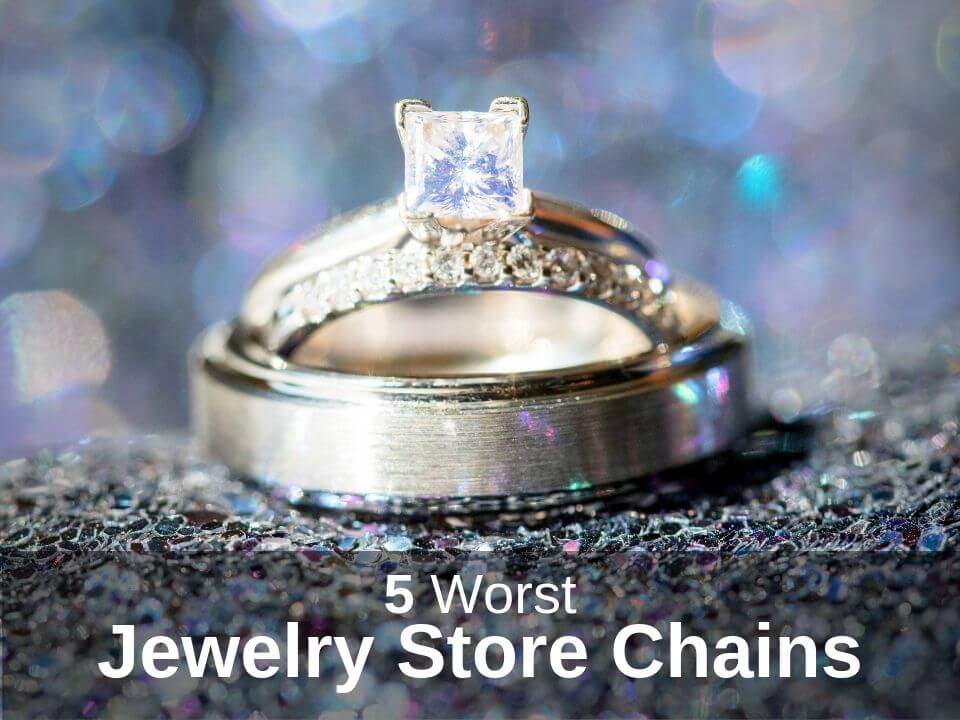 I want to point out quickly that the top three worst places to buy an engagement ring from are owned by the same parent company Signet Jewelers. As a result, Kay, Jared, and Zales are part of a massive conglomerate of jewelry store chains that essentially control diamond sales in the US.  In addition to these chain jewelry stores in the mall, you'll even find the Piercing Pagoda under this parent company.
Even worse, JamesAllen.com is subsidiary of Signet Jewelers. Consequently, that's a major reason why I don't recommend James Allen on my list of the top five online jewelry stores.
Rant aside, I present to you the worst jewelry stores.
1. Kay Jewelers

One of the largest jewelry store chains in the United States is Kay Jewelers. You're likely to find a Kay inside or very close to a large shopping mall near you.
It's clear that Kay has a massive advertising budget, as you're probably familiar with their television jingle "Every kiss begins with Kay". To me, this means that Kay is making a ton of profit from jewelry sales. In the diamond industry, big profits means big markups, and big markups are bad news for you.
2. Jared the Galleria of Jewelry

Another household name in the jewelry store chain business is Jared the Galleria of Jewelry. Targeting middle and lower income earners, Jared has hundreds of locations across the United States.
Similar to Kay, Jared also spends a lot of money on advertising. You're probably familiar with the tagline "He went to Jared". Again, when a company invest a lot of money in ads, it probably means big markups on their jewelry and they desperately want your business.
3. Zales

The final jewelry store chain under the ginormous Signet Jewelers parent company is Zales. While Zales also has hundreds of locations across the US, this jeweler probably has the strongest online diamond inventory of the three.
Although I recommend buying your diamond ring online, I don't recommend buying a diamond online from Zales (or offline for that matter).  You see, Zales uses misleading marketing techniques to encourage uneducated buyers to purchase low-grade diamonds. In general, diamonds sales are fake, so don't believe it when Zales has a 30% off sale.
 4. Costco

Costco engagement rings should be avoided at all costs. There are numerous issues with buying a diamond engagement ring from a discount wholesaler.
First of all, Costco doesn't employ any jewelers which means nobody knowledgable with diamonds can help you with your purchase. In addition, with at most a few hundred preset rings, you have an extremely limited selection of Costco engagement rings to choose from. Finally and probably most importantly, you might think you're getting a bargain by buying your engagement ring from Costco, but in reality you're paying much more than you should for inferior quality diamonds at best.
5. Tiffany & Co.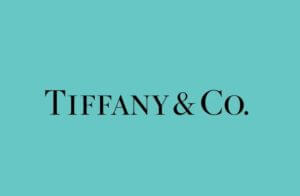 While Tiffany might be one of the most recognized jewelry brands, I hate to tell you that you should never buy an engagement ring from there.
Tiffany & Co. grades their own diamonds as opposed to using GIA or AGS—two reputable, independent diamond grading laboratories. This means there's potential for them to sell you a diamond that's not properly graded to industry standards.
Putting that aside, the main reason you should not buy from Tiffany is because you're paying for the brand name. Although you might be buying a quality diamond, the price tag will be extremely high because of the Tiffany name. Don't pay more than you should. Shop elsewhere and get a better bang for your buck.
---
Rather than spending hundreds extra by buying your diamond engagement ring from a jewelry store in the mall, I suggest you buy it online. Online diamond retailers have less operating costs than jewelry store chains, so they are able to sell jewelry to you at a cheaper price.
Check out my list of the top five online diamond jewelry stores to buy your diamond engagement ring from. Also, if you have any questions about buying an engagement ring, let me know in the comments below—I know a thing or two about diamonds.